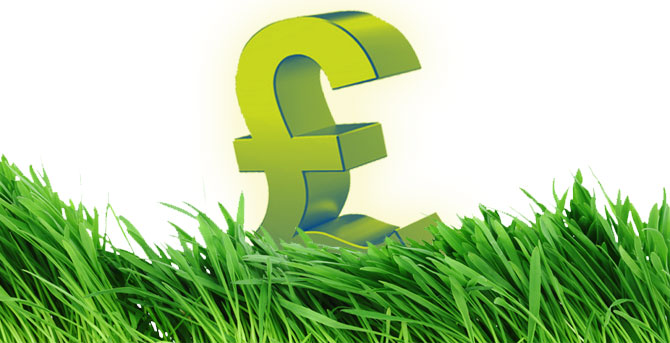 England's green and pleasant pound
The Green Investment Bank celebrated its second anniversary last Friday, and made the announcement that they have received over £5bn in funding since it began in 2012.
They are the first bank of their kind ever, brought into fruition by their only shareholder – the UK government, with an initial £3.8bn of public funds. The bank then invested £1.6bn of capital itself, massively boosting their investment capabilities. In turn, they use this money to support commercial green projects and mobilise other private sector capital into the UK's green economy.
Their portfolio includes backing up an impressive range of green technologies, such as offshore wind power, responsible waste-handling, energy efficiency, biofuels, biomass, carbon capture and storage, marine energy and renewable heat. This all sounds like a lot of hard work within two years, but we're sure that GIB will have toasted their efforts recently, having also financed the installation of a biomass boiler at the Royal Brackla whisky distillery at Cawdor, near Nairn.
The bank invests heavily in the Green Deal Finance Company too, who are responsible for providing those signing up to the Green Deal with loans to fund their improvements.
Marking the occasion, David Cameron, PM said "we have become one of the greatest places for green investment anywhere in the world – and the Green Investment Bank has played an instrumental role in this.
Hopefully, the GIB will continue its strong upward trajectory; assisting Britain in setting an example for the rest of Europe in energy and waste-handling efficiencies. 
Published on 04/11/2014
---
Further reading
https://buildingspecifier.com/wp-content/uploads/2014/11/041114-GREENPOUND-BS-ARTICLE.jpg
343
670
Building Specifier
https://buildingspecifier.com/wp-content/uploads/2019/06/building-specifier-logo.png
Building Specifier
2014-11-04 14:39:46
2015-09-24 09:44:32
England's green and pleasant pound