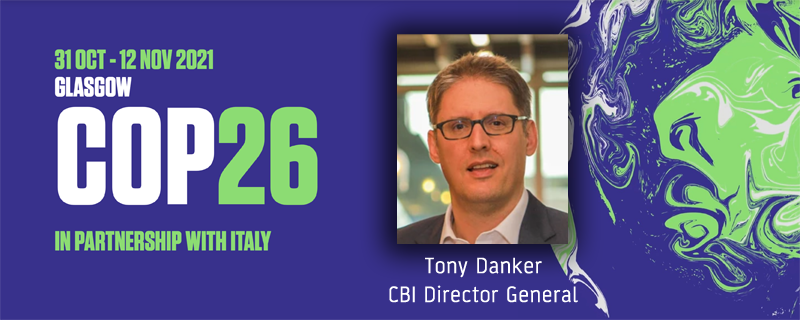 COP 26: GOVERNMENTS ARE MAKING SOME PROGRESS. BUT ONLY SERIOUS BUSINESS ACTION CAN KEEP 1.5c ALIVE – CBI DIRECTOR-GENERAL
It's time for firms to choose – lead the way or be left behind
CBI event to be addressed by John Kerry, Jacinda Ardern, Rishi Sunak & Kwasi Kwarteng
Record levels of CEO attendance at COP 26 indicates that net zero is no longer about reputation, but about commercial opportunity
Business ready, willing and able to deliver a net zero world. But Governments who want to "unlock trillions" need to "get serious" about how to do that
UK is uniquely well-placed to succeed in green transition and is making Decarbonisation its "big bet" post-Brexit and post-Pandemic.
Speaking at COP 26's largest business dinner – attended by an audience of business leaders, Ministers and foreign dignitaries – CBI Director General Tony Danker will tell delegates that 'this is a moment in history where every firm needs to step up and lead'.
The event, sponsored by the Weir Group, is deliberately timed as political leaders leave Glasgow at the end of the first phase of the Conference. With the exact outcome on international agreements in the balance, Danker will say that, "Regardless of political progress, we in business are ready, willing and able to deliver a net zero world. Bold targets or timid ones. Total agreement or partial agreement. I don't believe any of you have come to Glasgow to give the job to someone else. This job is on us."
He will also note how leaders such as UK Prime Minister Johnson, HRH Prince of Wales and Secretary John Kerry have both broken with traditional UN consensus to look toward business to deliver the capital and ingenuity needed to achieve climate change. But this will need governments to work differently: "Governments are used to being green rule-makers. Now they must learn to become green market-makers."
Speaking about the importance of the COP26 Summit, Tony Danker, CBI Director General, will say:
"Whatever its formal agreements, this COP will be best-known as the moment we reached a consensus: that Governments can't get to Net Zero without business. And that businesses who fail to embrace Net Zero will get left behind.
"Governments are making some progress at COP 26, but only serious business action can keep 1.5c alive.
"We cannot achieve Net Zero without clean energy to power our world. Without foundational industries – from agriculture, to mining, to building shifting to sustainable ways of working.
"Without cleaner transport, greener manufacturing, and more sustainable products. Without technological breakthroughs in every part of the value chain, to protect nature and sustain the resources we use every day.
"We cannot achieve Net Zero without markets and money that rewards those who move with the greatest boldness and deliver what they promise. We cannot achieve Net Zero without new services that make sustainable living viable, easy, and rewarding for consumers.
"Our success is therefore interdependent at this COP. Where governments have made progress – such as deforestation or technological breakthroughs – companies will immediately change policies and investments to follow suit. Where governments have yet to agree, such as on carbon pricing, then the private sector cannot solve these shortcomings. Delivery will be fragmented and patchy. Misalignment in policies and standards will undermine different industry sectors reforming radically enough."
On business commitments needed to deliver Net Zero, Tony will say:
"This is a time for business leadership. We can't do it without governments but nor can we wait for them to reach perfect agreement. This is a moment in history where every firm needs to step up and lead.
"For some of you I know this is a moral obligation; a commitment to business as a force for good or to leaving a sustainable legacy to future generations.
"Some have described this moment as the second industrial revolution. The first one – created here in the UK, created by us in business – brought opportunities and growth that no-one had expected or even dreamed of. Unfortunately, it also harmed our planet, in some ways irrevocably, along the way.
"But more prosaically, this is also a commercial imperative. As policy and market demands shift, we must transform our supply chains just to keep up. Our customers, clients, investors and shareholders expect nothing less.  
"And as boardrooms around the world run the numbers, they are realising that the business case has shifted. To put it bluntly, in purely commercial terms, the cost of inaction is, for the first time, higher than the cost of action. 
"Every business has faced strategic challenges of this kind before. When the future attacks the present, the answer is never to protect the present. It is always to run to the future.
"Yet there is an emerging gap now between firms who want to be at the forefront of the net zero transition and those who are resisting the inevitable. It's time for firms to choose – either lead the way or be left behind."
"The greenwashing of some firms is surely over. That's clear from the new accountability regimes in place. But it's also clear in the record CEO attendance at COP. Companies don't send their bosses to secure reputations. They send their bosses to take action."
On the role of governments,
"From our Prime Minister, to the Prince of Wales, to Secretary Kerry. Political leaders everywhere are starting to say that the role of governments on climate change is limited in scale and scope and that it is the ingenuity and financial might of the private sector that is required to get the world to Net Zero.
"We accept the challenge. We can make greater commitments, accept deeper accountability, and raise more capital for the task. But political leaders need to now get serious about what it will take to make this successful, and successful for every sector. Governments nationally must design the markets correctly to let that capital be deployed. And governments internationally must agree consistent commitments and standards to ensure that companies can move fast and green innovations can travel across borders.
"Governments are used to being only the green rule-makers. Now they must learn to also become green market-makers. They can pump prime nascent markets such hydrogen and battery cell production to make them grow. They can design market mechanisms that guarantee investible propositions with returns such as contracts for difference in offshore wind. They can rebalance economic regulation to give investment and innovation equal status. They can use taxation to incentivise those who make green choices and penalise those who don't.
"Those that aren't proactive in stimulating markets to flourish are willing the ends of investment in net zero but ignoring the means."
On the UK's journey to Net Zero, Tony will say:
"Post Brexit, Post Covid, Decarbonisation is our big bet. It is already driving a rebirth of innovation. It is bringing substance to the levelling up agenda – by bringing higher value industries and jobs to different corners of our country. And it gives definition to the idea of Global Britain – because it is the source of new products and services where we can lead the world.
"This can be a UK success story. Our climate politics are unique. Climate is not a right v left issue here, unlike many parts of the world. Our business mindset is far more advanced on net zero than in most other markets.
"And we are not only competing at the frontier – with new technologies and inventions. Our work on the transition to net zero – the hardest bit of all – is already underway.
"Every sector in our economy is grappling now with the real consequences of what decarbonisation does to our business models, our customer propositions, and our economics. I am convinced that the pain of doing this faster than others will bring us even greater opportunities on the other side.
"That is why we at the CBI have put decarbonisation at the heart of our economic vision for the UK. Why we are working tirelessly with the UK Government on how to ensure climate change policy unlocks green investment – nationally and globally.
"It's why we've been working with other international business organisations and business leaders too – to drive collaboration and action now, whatever our political leaders agree. And it is why we see it as our job to support you – every firm in this room – on your own journeys. The CBI will regard it as mission critical to enable every firm in the UK to complete its successful net zero transition."
https://buildingspecifier.com/wp-content/uploads/2021/11/BSC-2-05.11.21.png
320
800
Lyn
https://buildingspecifier.com/wp-content/uploads/2019/06/building-specifier-logo.png
Lyn
2021-11-05 12:07:47
2021-11-05 12:07:47
COP26: It's time for firms to choose – lead the way or be left behind