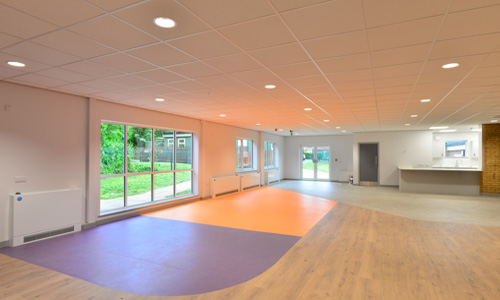 The Space Field Lane refurbishment includes a brand-new, ultra-green ceiling from Armstrong.
A year after it won Armstrong Ceiling Solutions' competition for an admirable cause to win a new ceiling, a community centre in West Yorkshire is heralding a New Beginning for local residents.
The Space Field Lane is a £480,000 renovation project using Armstrong's ultra-green Dune eVo ceiling tiles. The community centre had lain empty for almost seven years, on the Field Lane estate in Rastrick near Halifax.
Dune eVo is the next evolution in ceiling tiles. Fully recyclable, it provides class-leading aesthetics and improved acoustic performance through a new surface which is both brighter and smoother. It is also the first ceiling system in the industry to gain Cradle To Cradle accreditation.
The project was entered for Armstrong's eVoNewBeginnings competition by the project's coordinator Neil Hardaker of Pickles Architecture in Brighouse.
The competition for up to 250m2 of Dune eVo tiles and grid plus up to three days of free installation by a member of Armstrong's national network of approved Omega installers was promoted through Armstrong's social media sites (LinkedIn, Twitter and Pinterest).
Error, group does not exist! Check your syntax! (ID: 4)
Open to any non-commercial project in the UK and Ireland that serves a community, it was judged by two internal and one external judge, with the winner being the project they thought most deserved a charitable helping hand.
Neil said: "We heard about the eVoNewBeginnings competition through an email from Armstrong Ceilings and we passed it onto the client. We thought The Space would benefit from the help that Armstrong Ceilings and the competition offered. I think it's given The Space the opportunity to save some capital costs and use that money for other areas which are more needed for the local community."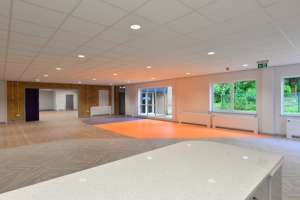 He added: "We have worked for many years with the Armstrong name. We think they are a good brand and we do specify them on projects. I think the new Dune eVo tile has given The Space and the building a fantastic look and a very modern, sleek appearance which we all wanted to create. I think the end result is what we all wanted for the charity and we're proud to have all been involved."
Centre trustee Mary Green said: "It was a tremendous opportunity. We were very anxious we wouldn't succeed because we had to value engineer our project so many times but here was an opportunity to add value to the project with such a super ceiling. The installation went really, really well and really quickly. All the Armstrong people we have been involved with have been super, very friendly very helpful and generally excellent to work with.
"This really is a new beginning for the community. Without Armstrong's involvement we certainly wouldn't have been able to have such a super new ceiling. We would have had to have had something much less specified and would have had to save money elsewhere in the building. The £16,000 value of this ceiling was really important to us. Using an ultra-green ceiling tile like Dune eVo was really important to us because we have tried, with everything we have done in the centre, to use materials which are environmentally friendly."
In a letter to Armstrong, Mary added: "I wanted to write personally to thank you all so much for the New Beginning you gave to our building and our project and to our community. The contractors have now moved out and we have moved in and it is all so fabulous. To be quite honest I can't quite believe that we, just a bunch of locals, have achieved all this and we wanted to stress the very significant contribution you have made to our project.
"I also wanted to thank you for your patience since our project took so much longer to reach ceiling installation stage than we could have imagined. A lot of that was due to our last-minute decision to add a Changing Places accessible toilet to the project – this is not just a 'disabled loo' but is one with an adult changing bed and hoist so that people with all levels of disability are not excluded from the building."
Quality Ceilings of Elland, who are a member of Armstrong's Omega network of approved installers, had two men on the project for a total of a working week. They installed a total of 350m2 of Dune eVo tiles in the main hall, offices, toilets and kitchen area.
Managing director Craig Sutcliffe said: "We were selected by Armstrong to carry out the installation because we were the most local Omega installer to the project which is just a mile down the road.
"We had not previously been aware of the campaign to renovate the community centre but were pleased to be asked to help. We work very closely with Armstrong. They give us a lot of support so we reckon it works both ways.
"It wasn't a challenging project or anything like that as we have used the Dune eVo tiles for a couple of years now so the product is not new to us. We use Armstrong products on the vast majority of our contracts."
The Space Field Lane was selected as the winner by judges Sara Rees, head of fundraising at the Rays of Sunshine Children's Charity (Armstrong's chosen charity for 2018), Armstrong sales director Graham Taylor and Armstrong HR director Sara Carter.
More information is accessible via the Armstrong Ceilings website
https://buildingspecifier.com/wp-content/uploads/2019/08/armstrong.jpg
300
500
Lyn
https://buildingspecifier.com/wp-content/uploads/2019/06/building-specifier-logo.png
Lyn
2019-08-06 14:26:20
2019-08-06 14:26:20
Community centre heralds a New Beginning, thanks to Armstrong Ceilings