CASCADE BRINGS AUTHENTICITY AND PERFORMANCE TO REFURBISHED GRADE II VENETIAN GOTHIC MISSION HALL
The period cast iron detailing and styling of Brett Martin's Cascade rainwater system has ensured the redevelopment of a stunning listed Victorian building in West London is in keeping with its high quality and distinctive Gothic-style design.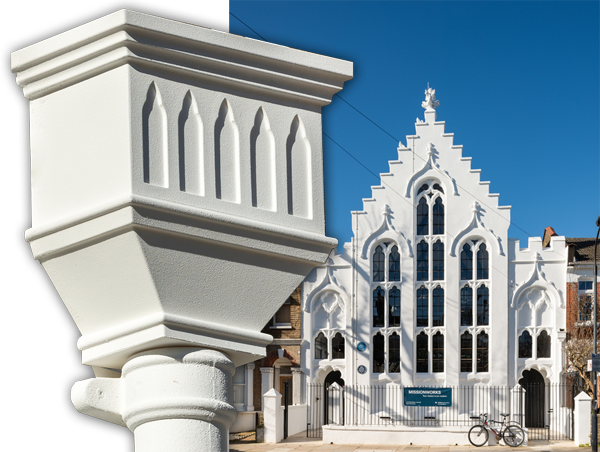 In the Bradmore Conservation Area of Hammersmith, the former Mission Hall dates from 1883-4. While originally built as a church hall, it was also used as a working men's club, a kitchen for the poor and since the 1960s was the workspace of a scenic artist specialising in backcloths for stage and film. When the artist's studio closed in 2014, the building was used temporarily as a workshop and for storage prior to its redevelopment into 7000 sq feet of office space. With this historically significant building in a poor state of repair, the highly decorative east and west facing Venetian Gothic façades required sensitive and accurate restoration. The authentic detailing of Brett Martin's Cascade cast iron style rainwater system was an integral part of this restoration, meeting the requirements of Neil Davies Architects and its client.
For the west façade on Iffley Road, the architect specified an authentic Porcelain White Cast Iron Style Hopper in the Gothic design to bring period authenticity to the distinctive façade . A 105mm Round Downpipe in Porcelain White was also installed to match the white painted cement render.
"The existing hopper and downpipe system was of a poor quality and featured painted plastic with no detailing ," commented Stace Martin, Senior Technician at Neil Davies Architects. " We have worked with Brett Martin on previous projects and their Cascade system offered the authentic detailing, colour and finish we required, whilst also meeting the client's budgetary requirements. The decorative hopper was also perfect as its design replicated the five arched windows on the front of the façade."
In addition to the Porcelain White colour specified for the former Mission Hall, Cascade is also available in a choice of eight heritage colours including Classic Black, Anthracite Grey, Oxford Blue, Chartwell Green, Olive Green, Graphite Grey, and Sandstone – all of which cater to the subtle nuances of local vernacular architecture. The complete colour range delivers the traditional appearance of cast iron with the convenience of modern plastic materials. Cascade is also UV stabilised for a maintenance-free system that will stay looking great and working well for years and comes with a 10-year guarantee.
Hopper styles provided by Brett Martin also include Bath and Ogee along with a number of optional decorative motifs including Fleur de Lys, Lion, Tudor Rose, Leaf, Gargoyle and Four Leaf Square. A Date stamp hopper allows specifiers to personalise projects.
While Cascade ticks the boxes when it comes to aesthetics, price and ease of installation, Brett Martin offers far more than the quality and versatility of the product itself. It can provide superior technical support, detailed installation instructions and maintenance guidelines to ensure rainwater systems perform exactly as promised.
With this redevelopment and restoration now complete and the future of the former Mission Hall now secured, Brett Martin's Cascade Cast Iron Style Rainwater System fitted seamlessly with this listed building and ensured an architecturally sympathetic appearance was achieved.
To find out more about Brett Martin Plumbing and Drainage visit: www.brettmartin.com
https://buildingspecifier.com/wp-content/uploads/2021/09/BRETT1.png
320
800
Lyn
https://buildingspecifier.com/wp-content/uploads/2019/06/building-specifier-logo.png
Lyn
2021-09-15 11:00:54
2021-09-15 11:00:54
CASCADE BRINGS AUTHENTICITY AND PERFORMANCE