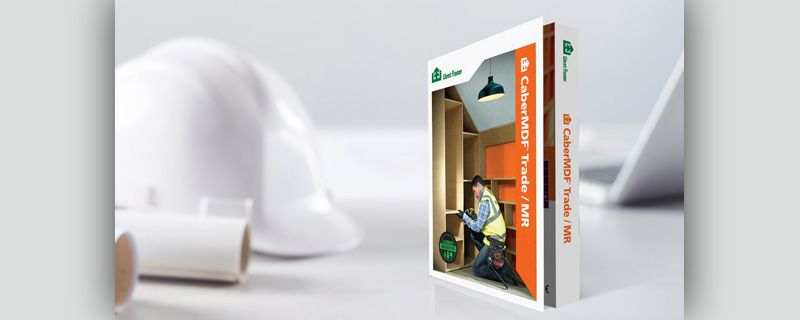 As the UK's foremost wood panel product supplier, West Fraser manufactures several grades of CaberMDF to meet the wide variety of demands across the construction and related industries, with these ranging from creating architraves for door surrounds to highly detailed decorative profiles and heavier duty uses.
The timber specialist's CaberMDF Trade is suitable for general purposes where simple profiles are required, as is its Trade MR; while the moisture resisting properties will suit humid conditions in bathrooms and other wet areas.
The Pro is ideal for the volume manufacture of various mouldings such as  door panels, skirtings and architraves, while the Pro MR can be used in atmospheres where moisture is prevalent such as in kitchens and bathrooms. Then West Fraser's CaberMDF Industrial is the most versatile type overall as it can meet most technical requirements, including facilitating deep routed profiles for membrane-pressed PVC doors, as well as designs which require advanced routed profiles as well as receiving high quality painted finishes.
To summarise the West Fraser options: CaberMDF is available in five main grades: Trade, Pro, Trade Moisture Resistant, Pro Moisture Resistant and Industrial. Colour is meanwhile used as a means of identification between the MR and non-MR grades and does not correlate to the boards' other performance parameters.  Trade, Pro and Industrial grades are the traditional 'sandy' colour, whereas Pro Moisture Resistant and Trade Moisture Resistant are distinguished by a green hue.
When decorating MDF, oil-based paint is best as the material is less absorbent and customers like the quality of finish which can be achieved on the very smooth surfaces that machining leaves.  Then in terms of fixing, most types of screws can be used, although the best results are obtained with parallel thread screws.
All wood-related products – including MDF – create dust when sawing, drilling and machining, so appropriate PPE, including masks, and good ventilation are vital.  Another health and safety consideration for the sector is the effects of formaldehyde content: where, reassuringly, CaberMDF complies with all the requirements of the latest E1 definition for the chemical when tested according to EN120.
---
CLICK HERE For further information or call 01786 812 921
---
https://buildingspecifier.com/wp-content/uploads/2023/07/westfaser.jpg
320
800
Lyn
https://buildingspecifier.com/wp-content/uploads/2019/06/building-specifier-logo.png
Lyn
2023-07-24 10:16:45
2023-07-24 10:16:45
CaberMDF, a reliable all rounder