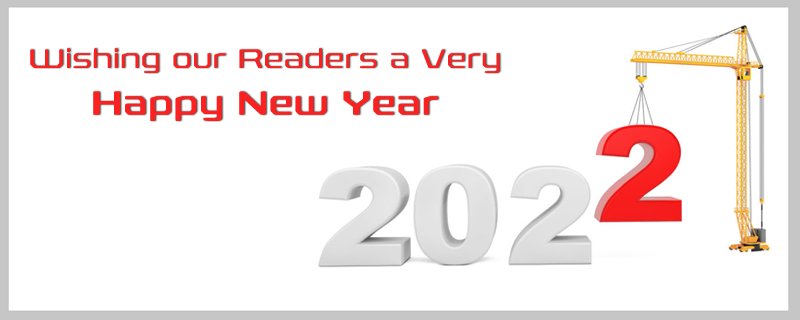 With 2021 finally behind us, a year marked by major problems that few of us could have predicted, what is the present mood of our industry? What mindset should we adopt as we take our first tentative steps into the New Year? Buildingspecifier.com Editor Joe Bradbury discusses:
Many of us have been left bruised and battered by a year of material and labour shortages, as well as supply chain disruption. Understandably, some of us will likely be nervous about the approaching issues that 2022 will inevitably bring. However, there is also much to remain positive and optimistic about, for just as the coming year will bring challenges, so too will it bring forth opportunities. A global crisis in the form of a pandemic has stirred things up; hopefully reform and creativity will increase over the coming 12 months as we put some of the lessons we have learned from navigating COVID-19 into practice.
"Demand has never been higher!"
This is of course of great news to the construction industry professional, however it's a rocky road to success! The housing and construction boom seen throughout the world, which was driven in part by the pent-up demand produced by the early uncertain months of the epidemic, actually increased material shortages in 2021. As people struggled to make space in their homes for both work and personal life, the UK government's stay-at-home orders resulted in increased consumer buying, selling, and therefore expenditure on larger houses and home upgrades.
While this was of course very exciting for the housing industry, it did cause problems for builders trying to obtain materials and many UK firms also struggling to meet demand. Builders have often been left unable to complete projects on time due to increasingly tight supply chains. This will undoubtedly have a considerable impact on the number of houses that the UK can actually build.
So whilst demand being high is great, we must ensure across all of the sectors comprising the construction industry that we work together and support one another, to deliver the built environment fit for 2022 and beyond, efficiently and effectively.
Adaptability is key
In 2021, the construction industry's skills shortage grew even worse. Existing supply problems have been exacerbated by Brexit, COVID-stressed supply networks and demand for more homes. Not only does this have ramifications for the sector, but it also has ramifications for the entire country. Increased pay expectations, lengthier project delivery schedules, and an increasing number of unfilled openings are all signs that the problem is gradually worsening.
2021 finally saw the release of the government's long-awaited Heat and Buildings Strategy, a huge moment for the construction industry. The strategy demonstrated a clear acknowledgment that the built environment will play a vital part in the next stage of the UK's decarbonisation drive, as the UK pushes on with its goal of net-zero emissions by 2050. Whilst the plan is far from perfect (it lacks a national retrofit strategy and a specific plan for training and retraining personnel), it does also contain much to feel positive about, such as a clear path for the transition to low-carbon heating.
So as afore mentioned, yes, there are many problems ahead… but will also be numerous opportunities. Following a year of preparation for COP26, a strong focus on sustainability will be placed in 2022, particularly when it comes to the types of materials used.
The construction industry will need to be responsive to change and keen to employ new materials and technologies, to speed up the inevitable transition away from carbon-heavy concrete etc.
Going above and beyond
One of the big themes for 2022 will be the pressure placed on companies to go above basic needs and standards as the UK government attempts to deliver an infrastructure revolution, improve building-safety legislation and build momentum in addressing climate change. The more responsibility we take as an industry, the more we will innovative and create more efficient approaches for embedding safety and sustainability in our built environment. We must strive to be smart and assure that new legislation will not only provide safety, but also promote innovation and raise standards above and beyond the bare minimum. 2022 could be a great year of change.
Despite the fact that 2021 was a difficult year, the future is looking challenging but bright. We must continue to step up to the plate as an industry and up our game. For us to overcome the challenges ahead, we need to level up as an industry and ensure we are comprised of individuals with innovative, diverse, responsible and collaborative mind-sets.
https://buildingspecifier.com/wp-content/uploads/2021/12/December-feature.png
320
800
Lyn
https://buildingspecifier.com/wp-content/uploads/2019/06/building-specifier-logo.png
Lyn
2022-01-04 08:07:25
2022-01-04 08:07:25
Building a 2022 that works for everyone