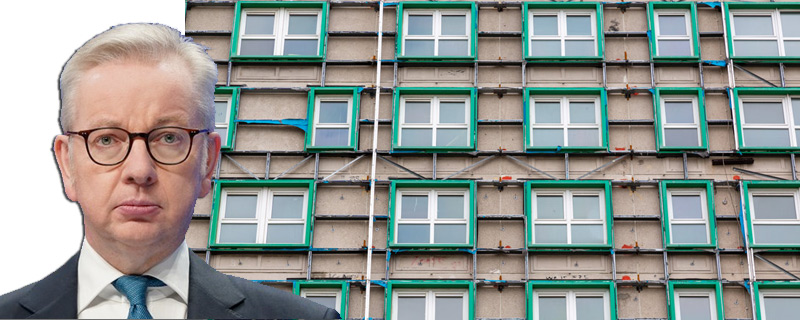 H
ouse builders lost more than £1 billion in value today after the government gave the industry just a few weeks to come up with fully costed plans fix the £4 billion cladding scandal.
Michael Gove, Secretary of State for Levelling Up, Housing and Communities, today wrote to industry chiefs telling them to draw up plans to fix issues with building cladding by early March.
Builders are being asked to contribute £4 billion to a fund that will repair unsafe buildings between 11 and 18 metres tall. Developers must also fund and fix any issues with buildings over 11 metres that they have worked on and provide the government with data on developments done over the past three decades. Gove threatened legal action if companies fail to comply.
Shares in house builders slumped. Persimmon was the biggest faller on the FTSE 100, down 3.1%, while Redrow dropped 3.3% on the FTSE 250. Other major developers registered similarly sharp falls and £1.3 billion was wiped off the sector's market value in early trade.
UBS analyst Gregor Kuglitsch said the cost of the new measures was "significant".
---
---
"The current market cap of the sector is around £40bn so a £4bn cost would equate to ~10% on a pre-tax basis," he and his team wrote in a note to clients. "This assumes the listed sector would bear the brunt of the cost, although there are likely some private companies that will also need to pay."
Gove's announcement comes on top of the building safety levy and residential property developer tax. Both were announced last year to help fund the government's £5 billion commitment to tackling the problem.
The new measures are an about turn on the government's previous position, which had seen the leaseholders shoulder the burden of fixing cladding issues on tall buildings.
Stewart Baseley, executive chairman of the Home Builders Federation said: "The largest UK based house builders, who only built a minority of the affected buildings, have already spent or committed approaching £1bn to remediate affected buildings and the recently announced Property Developers Tax will raise billions more.
"We will engage directly with Government but any further solutions must be proportionate, and involve those who actually built affected buildings and specified, certificated and provided the defective materials on them."
Rico Wojtulewicz, head of housing and planning policy at the National Federation of Builders (NFB), said: "The Government has already introduced one industry specific cladding tax, and now another is on its way. This piecemeal approach is confusing, unnecessarily complex and will likely impact the number of homes built.
"It's also worth pointing out that the developer paying for remediation will almost certainly not have been responsible for the cladding put on the property – most of which was retrofitted long after construction and has nothing to do with the developer.
"Another construction industry related tax is neither fair, nor proportionate and industry will be dismayed at this scatter gun approach to fixing an issue that several governments set the regulation for.
"Perhaps all MPs will sacrifice a percentage of their salary and pensions to help fund remediation, see as the real responsibility lies with legislators?"
A spokesperson for Taylor Wimpey said it has "acted on this already for its customers" and "made sure Taylor Wimpey customers do not have to pay for these improvements."
"We trust that we will not be penalised for our early action to do the right thing," the company said. "There are many organisations involved in the issue of fire safety, including large business in our supply chain and indeed Government themselves, and so the proposed response must recognise this."
Gove said: "Some developers have already done the right thing and funded remedial works and I commend them for those actions. But too many others have failed to live up to their responsibilities."
Only 12 tower blocks from the many requiring removal of the unsafe cladding have seen this remediation financed by the £5 billion fund released from the taxpayer and annoucned by the Chancellor in February 21.
Source: Evening Standard
https://buildingspecifier.com/wp-content/uploads/2022/01/BSC-2-10.01.22.jpg
320
800
Lyn
https://buildingspecifier.com/wp-content/uploads/2019/06/building-specifier-logo.png
Lyn
2022-01-10 13:17:02
2022-01-10 13:26:26
Builders Shares Slump as Gove says Repair Unsafe Buildings