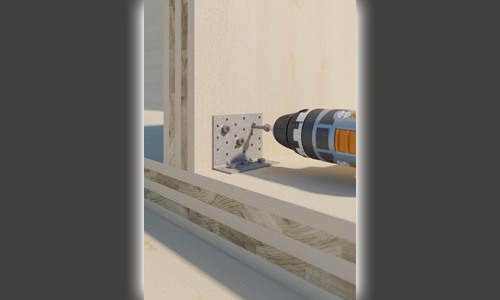 Simpsons leading in engineered structural connectors fasteners & building solutions
 #constructionindustry #sustainable #architects #localauthorities #contractors #developers #innovation #buildingtechnology #mmc #structuralconnectors #newcatalogue #fasteners #crosslaminatedtimber @strongtie

Simpson Strong-Tie, the leader in engineered structural connectors, fasteners and building solutions, has launched a comprehensive offering of regulated and quality tested connectors and fasteners to serve the growing demand for CLT construction in our all NEW ''Connector & Fasteners for CLT Construction Catalogue''.
Backed by a robust product range and distribution system, along with first-rate service, support, and training, the collection of versatile, high-performance products will allow for design flexibility while enabling CLT projects to be built stronger, faster, and more easily than ever.
First introduced in the 1990s, cross-laminated timber (CLT) and other mass timber -framed buildings. Recognized as a green building product for its ability to sequester carbon, CLT is proliferating as specifiers seek sustainable structural building materials and builders embrace the efficiency and reduced waste of factory-based construction solutions.
Rigorously tested and designed to provide strength across a wide range of designs, Simpson Strong-Tie's fasteners and connectors for CLT are now available, offering Europe's largest range of solutions for CLT connections. Linked to our established national network of construction suppliers, for what-you-need and when-you-need-it, we are leveraging our dual passions of service and innovation to meet the industries unique demands.
"With over 25 years of designing and manufacturing here in the UK, Simpson Strong-Tie is now proud to offer smart solutions for CLT," says Jon Head, Sales Director. "In addition to a nationwide supply network, ready to deliver high-performance connectors and fasteners at a moment's notice, Simpson Strong-Tie is looking forward to bringing our tradition of product quality, training, service, sales and technical support to this unique and fast-growing construction method".
Additional innovations making up the Simpson Strong-Tie Cross-Laminated Timber launch include the Premium Fasteners – SSH Screw for use with a wide variety of connectors where a high load capacity is required and designed as an ideal solution for CLT applications.
The new catalogue is now available to download on the website.
www.strongtie.co.uk
https://buildingspecifier.com/wp-content/uploads/2020/08/SIMPSONS.jpg
300
500
Lyn
https://buildingspecifier.com/wp-content/uploads/2019/06/building-specifier-logo.png
Lyn
2020-08-04 13:40:41
2020-08-04 13:33:50
NEW Catalogue