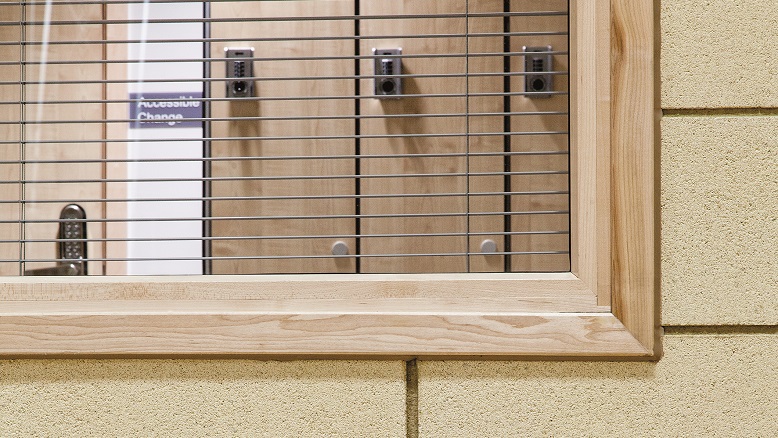 With research highlighting that ineffective sound control has a lasting negative impact on education performance , it's an ideal time for those involved in the education build sector to reflect on whether they are implementing adequate acoustic control to ensure building compliance in accordance with BB93. Here Rodney Davidson, Head of Specifications at AG looks at current standards and highlights Cheltenham Ladies College where AG's Alphacrete® Acoustic masonry was used to create an aesthetically pleasing, calm, safe and health-promoting space.
Acoustic control: Why it's important
The link between ineffective noise control and a poor education performance affects those involved in the Education build sector two-fold. Firstly, careful consideration should be given as to whether the correct building products to control external noise pollution and safeguard the health and wellbeing of the school's surrounding community and local residents have been used. For example, a gymnasium housing a loud basketball game with cheering crowds should not be heard in nearby classrooms where lessons are taking place. Beyond the obvious distraction to students, proven hormonal responses to loud, unpredictable sounds suggests that students exposed to chronic loud noises over time are at risk of damage to their general health and mental wellbeing, not to mention academic performance.
Secondly, consideration should be given as to whether the correct building products have been specified to instil adequate reverberation time control within each particular room or space. Without appropriate acoustic control measures in place large unfurnished areas like sports halls or assembly halls will have extremely long reverberation times; in layman's terms this means that the room will have a lot of echo and it will be difficult to hear and understand speech or music within that space which is not at all ideal for students in a learning environment.
What are the current standards?
BB93: February 2015 sets out, minimum performance standards for acoustic requirements of school buildings. The overall objective of the performance standard is to ensure that the design and construction of school buildings provide acoustic conditions that enable effective teaching and learning.
All parties involved in the build have a responsibility to ensure the products used successfully help to control reverberation time and meet the performance standard set out in section 1.5 table six of BB93: 2015.
Achieving the right reverberation characteristics is critical to the acoustic performance of an interior space, particularly in school buildings. Good acoustics reduce distraction from airborne noises and make it easier to hear people speak, which is critical in a learning environment and helps aid and enhance pupils' learning capabilities.
Acoustic control in action
AG completed the impressive gymnasium at the Cheltenham Ladies College in Gloucestershire using AG's Alphacrete® acoustic block range; providing structural support and optimumal light reflectance value (LRV) for sports halls according to Sport England's guidance.
The low-maintenance blocks arrived on site in the chosen colour (Ernestone Buff) negating the need for painting or adding a protective sealant, and were built below wooden panelling at Cheltenham Ladies College to create a distinctive contrasting aesthetic that was practical too. Alphacrete® acoustic block's durable surface made the hall hard-wearing against knocks, bangs and wayward balls, whilst also absorbing sound efficiently.
The brief included the need for a brand-new wall mounted basketball and netball nets. Sports equipment, door frames and window sets are all easily integrated with Alaphacrete® acoustic when installed in line with AG's design guidelines.
Alphacrete® acoustic blocks are compatible with a wide range or mortar blends. For this particular project M4 Medium Buff mortar was used as supplied by CPI Mortars.
Peace of mind with Alphacrete
Design and build contractors and Specifiers can now have the BB93 reverberation time compliance confirmed prior to construction when AG's Alphacrete Acoustic range is used, negating the need for post construction testing. For more details contact AG's specification team at specifications@ag.uk.com or visit www.ag.uk.com.
https://buildingspecifier.com/wp-content/uploads/2018/11/IMG_1583.jpg
438
778
Product News
https://buildingspecifier.com/wp-content/uploads/2019/06/building-specifier-logo.png
Product News
2018-11-30 16:46:44
2018-11-30 16:46:44
A lesson in acoustic control in education