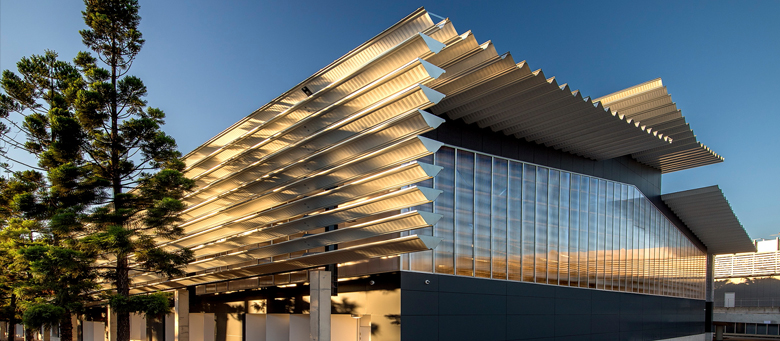 Netball Central, Sydney Olympic Park's state of the art netball complex, is using a natural ventilation solution from SE Controls' Australian systems partner, Unique Window Services (UWS), to deliver precise, energy efficient control over indoor air quality and temperature at the centre.
The natural ventilation system uses four compact SE Controls NVLogiQ zone controllers, which constantly monitor a range of indoor air quality parameters, including carbon dioxide (CO2), temperature and humidity to maintain a comfortable environment for teams and spectators.
Air quality in each of four zones in the centre's upper and lower levels are monitored by the NVLogiQ units and if it exceeds any of the pre-defined environment set-point limits the controllers trigger the automatic opening of high and low level louvres to provide ventilation or cooling.
In normal operation, the principle of thermal stacking is used with warm stale air being vented through the high level vents, which has the effect of drawing cooler and fresher replacement air into the building via the low level louvres.
In addition to the NVLogiQ controllers, 10 dedicated SE Controls PSUs were also installed as part of the system, which ensure each louvre responds precisely to the signals received from the controller and provides the correct level of ventilation.
The system is also configured to provide night purge cooling at the end of each day, which not only helps reduce the internal temperature, but by fully opening the vents it also ensures that stratified air is removed along with any airborne pollutants that have built up during the day.
Shane Grice, UWS Managing Director, explained: "As an SE Controls technology partner, we have access to their advanced monitoring and control systems, which allow us to design and install highly effective and efficient ventilation solutions, which have proven to be of significant benefit on this an a number of other key projects."
He added: "The demand for highly energy efficient building is an essential part of managing the global environment, and for prestige buildings, such as Netball Central, it's important that they set the standard for low energy cooling and building management solutions."
Further information on SE Controls' products, solutions and projects can be obtained by visiting www.secontrols.com or calling +44 (0) 1543 443060.
https://buildingspecifier.com/wp-content/uploads/2016/02/SE-BS-ARTICLE.jpg
341
780
Product News
https://buildingspecifier.com/wp-content/uploads/2019/06/building-specifier-logo.png
Product News
2016-02-24 17:21:19
2016-02-24 17:21:19
A cool solution from SE Controls for Sydney's Netball Central