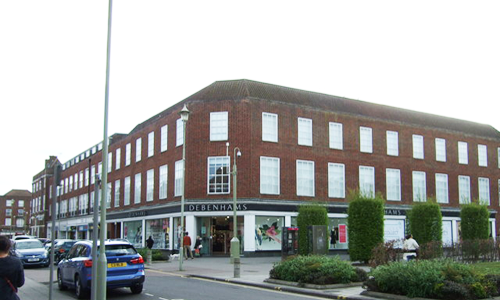 Could empty retail units provide a solution to housing shortages? Craig Middleton, mortgage sales & distribution manager at Harpenden Building Society, believes it is possible
During recent months we've all needed to adapt to a life changed by Covid-19. There's not been a more disruptive incident in a generation with its fallout impacting our futures in ways we never thought possible. The human impact has undoubtedly been immense and may never totally heal but there is hope that the financial shock experienced will recover in time as we adapt to a new way of living.
As everyday life and some semblance of normality resumes more regular concerns will be front of mind once again. Social issues such as the acute shortage of housing, for example, are likely to reappear – but how has the pandemic affected this problem? The availability of property has changed for one but before we consider this, let's firstly take a look back at the extent of Britain's housing crisis.
The level of housing shortages
Household growth is one factor affecting overall housing need. The number of new households in England, for example, is projected to grow by 159,000 per year, based on current trends.
The backlog of existing demand for suitable, affordable accommodation is often cited as a pressure on housing supply, as is desire for more space by households that can afford it.
There has been a range of research into the amount of new housing needed, with estimates as high as 340,000 new homes per year.
The Government's target is to supply 300,000 new homes per year by the mid-2020s.
There is geographic variation in household growth and housing need, with greater demand in London and the south of England.
Getting back on track
As recent as March this year the government announced relaxed new measures to accelerate the building and modifying of homes, welcome news to potential property owners and those of us in the mortgage industry.
These new directives were announced before Covid-19 took its negative grip but will no doubt be considered helpful by most in the current climate to speed up house building. Planning departments have become fully functional again to approve new projects. This will lead to builders' merchants reopening and construction sites coming back to life ensuring that house building will accelerate. The question is, what other new residential opportunities will be available post Covid-19?
New housing options
Adapting redundant retail units is one answer. Vacant shop units could be increasingly reclaimed and converted into housing but why have so many sites recently become available?
There are a number of economic reasons but, in short, I believe the main reason is that over the last few years, due to the increasing popularity of online shopping, our high streets and town centres have become a shadow of their former selves. There's been a huge change in consumer shopping behaviour.
Even prior to Covid-19 many retailers dependent on a high street presence gave profit warnings or have since gone to the wall. In recent 'pandemic months' we've fallen even further out of love with the physical in-store experience with internet shopping taking centre stage. After all, why would we risk our health or shy away from the convenience of online browsing and door-to-door delivery?
The demise of the town centre retailer was already in view but massively accelerated by the coronavirus. As a result we're seeing a change of usage for some of these underutilised units with many examples of premises becoming or destined to become split retail / residential dwellings or a complete change of use to flats and apartments.
The examples are endless and seen in virtually every town and city – I can reel off a string of examples in Hertfordshire where Harpenden Building Society is head quartered. The former Debenhams store in Welwyn Garden City is one such case and has gone through planning for part conversion to 27 flats. Could a similar outcome be seen at former British Home Stores vacant around the UK or some of the department store giants now facing closure post Covid-19?
With permitted development rights relaxed in recent years allowing offices, pubs and other redundant buildings to become housing, surely we will see more flexibility when it comes to change of use for unviable retail units.  Advancing building techniques such as 'modular' construction is also making it easier for retail space to be quickly converted into residential dwellings.
The mortgage industry's response
So change is afoot. Housebuilders once dependent on clearing brownfield sites or negotiating the complexity and controversy of a green belt planning application may see alternative options arising. The availability of redundant retail units coupled with the shake-up of planning laws to trigger a homebuilding surge is one such opportunity and could kick start housing development in ways previously unimagined in our town centres.
As lenders, mortgage intermediaries or those involved in servicing the wider property market we need to prepare, ensuring we can service and help drive new opportunities. The demise of town centre retail could be a valuable accelerant to a much needed housebuilding drive.
Future mortgage applications may look different as a new breed of property comes onto the market but the team at Harpenden Building Society will arpedenHbe looking at all requests in the same individual way. Every application, however complex, will be reviewed by a personal underwriter with a solution-driven approach.
This and other opportunities will create a bright future for the mortgage industry beyond Covid-19 – we're ready……. Source: Mortgage Finance Gazette
Speaking to Radio 4's 'You and Yours' the Communities Minister Brandon Lewis suggests:
Ministers want to turn boarded-up High Street shops into new flats and houses.
The UK government is due to launch a consultation into possible changes to planning regulations, making it easier to convert a commercial property into a residential one.
Communities Minister Brandon Lewis outlined the scheme to BBC Radio 4's You & Yours programme.
"If we change some areas to allow them to be residential, we increase the footfall for the town centre," he said.
Ministers in the Department of Communities and Local Government say creative thinking is needed because the way we shop has changed, with the rise in internet shopping and changes in lifestyle and working patterns.
"We need to think creatively about how to help town centres thrive in this new era," Planning Minister Nick Boles has said.
"We want to encourage… retail activity into the prime shopping streets in the heart of their town centres and adopt a more relaxed approach to underused retail frontages.'
If a place does not operate economically people won't want to live thereMatthew Hopkinson, Local Data Company
Mr Lewis told the BBC programmes that changing planning regulations could remove the blight of empty shops while providing much needed new housing.
'Dovetail'
The government has backed the Portas Pilot project which has seen towns awarded a share of a £1.2m pot to find innovative ways to regenerate the High Street.
Mr Lewis denied the new idea was an admission of defeat for that scheme, saying instead that the separate plans "dovetailed quite nicely to play another part in making sure we've got healthy and sustainable town centres and market places".
He added: "Some shops have struggled and in some places they will be in residential areas already."
But he emphasised that it will be up to each council to decide what happens in their area.
"It's really important that this is controlled by the local authority who know what their town centre needs are," he added.
However, Matthew Hopkinson from the Local Data Company, which monitors High Street occupancy and vacancy rates, warned any changes must be made in conjunction with other economic developments.
"There's no point converting [shops] to residential if you don't have the jobs and infrastructure that make people want to go and live there." he said.
"The reality is, if a place does not operate economically people won't have the money to spend in shops."
A recent report by London councils estimated empty shops cost London £350m each year in lost business.
It also called for local authorities to be offered powers to curb the expansion of payday lenders and betting shops.
The study's authors wrote: "Empty shops are not only a symptom of a struggling High Street, they are also a cause.
"High Streets are social places that give a sense of belonging; – their loss could lead to social problems."
https://buildingspecifier.com/wp-content/uploads/2020/06/BSC-NEWS-30.06.20.png
300
500
Lyn
https://buildingspecifier.com/wp-content/uploads/2019/06/building-specifier-logo.png
Lyn
2020-06-30 11:29:31
2020-06-30 12:54:12
Yesterdays shops could become tomorrows homes